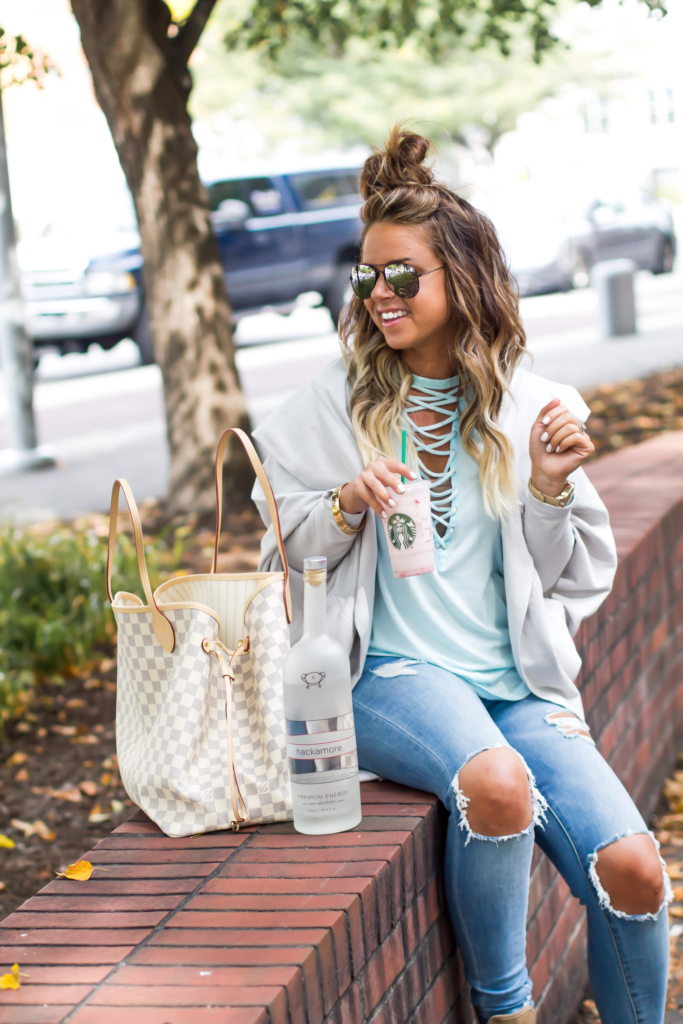 It's finally Friday and it's also the first day of September (technically the first day of fall) haha. I wanted to share this adorable outfit to get you into all the fall vibes. I'm obsessing with this oversized slouchy cardigan from Evy's Tree– so comfy and the color goes great with anything! Also, this Express tee (under $35)! These distressed jeans are perfect for fall and you can never have too many! I paired them with these gorgeous booties that I just snagged from Target. They are perfect to pair with jeans or dresses for fall.
I also parented up with Hackamore which is a premium energy beverage that's an non-alcoholic drink. Hackamore offers a refreshing taste when sipped on the rocks or taken as a shot due to its pure and concentrated nature. You can mix it with your favorite soda, fruit juice or alcohol. Which I mixed with my *favorite* pink drink from Starbucks. Best part about it is that only contains natural caffeine along with amino acids and b-vitamins AND it's zero calories. What's not to love? You can purchase it, here.
Thanks so much for stopping by love!
Xoxo, Megan
Photos by Amanda Matthews Photography.